OK, it was actually the 13th December, and I thought it was the 16th… (I just went waaaay back and discovered the exact date) but still, it's better to say something, even if a few days late than not at all… has it really been 7 years since I started this blog? OMG! I wonder what the next 7 years will bring… to all my loyal readers, thank you for sticking by me and checking out what I like in the world of spanking (and I guess what you do too…) so today, in catch up mode, I have a mega post for you… enjoy! I have no idea what I'm about to blog about so this should be fun and random,  let's just enjoy the ride 🙂
You know I love seeing air hostesses (or flight attendants… that sounds so much more boring) in their uniforms spanked… so let's start with a double feature from Spanked-in-Uniform.com which has another couple of naughty girls punished at Europe Air… the spankiest airline on the continent! (If only the staff at shitty RyanAir could get punished like this – sigh)
The English Lesson – parts 1 & 2
After a flight to Budapest it had become obvious that stewardesses, Adrienn and Timi, lied on their CV when they said they both spoke perfect English. Before Mr Johnson punished them properly for lying, he decided to give them an English lesson with the help of his hard hand and little paddle… then in the 2nd part (below)
After the lesson, it was time to give the lying little madams their proper punishment. They were bent over the desk and Mr Johnson's big leather strap turned their bottoms a fiery red. They were given each an "English for beginners" book and told to learn the first three chapters then sent on their way.
You can view the entire series of Air Stewardess spankings, along with all the other unique uniform punishment niches, at the aptly named Spanked-in-Uniform.com website!

**************************************************
From Japan, there are 2 sites you know I love very much… both are F/F spanking sites only and feature some of the most beautiful cute girls in some of the best schoolgirl costumes I have ever seen… mainly feeding my cosplay and schoolgirl spanking fetish, I guess (ahem) – so let's take a peek at some recent updates from both sites for your (and my) visual gratification!
From CutieSpankee.com – "The Sunday Nightmare"
This beautiful schoolgirl recalls her worst punishment experience when she stayed out all night without permission. On her return, her mother had been waiting with a fierce look & she was immediately dragged into the living room for her first 100 strokes of the paddle!
See more schoolgirl & domestic punishments like this HERE

******************************************************
Those of you who know me will know that I don't really do Xmas… it's just not my thing. Too many unhappy memories, I guess. Anyway, my site won't have a specific Xmas video this year, but it WILL have a special video that week that is fun but also incredibly sexy and pokes fun at me (for being stupid) and showcases 2 of my fave spanking models at the same time so I won't follow the crowd and do a special theme this year ) even though I could have when you see the 2 girls in question… but you'll have to wait for that announcement until later this week… nope, here is the 1st of the Xmas videos I have seen – and it is rather similar to what I filmed (bugger) as I had already made a "Stepford Wives" style spanking video (it's being edited right now for next week) but I like this Japanese take on the season of (good?) will courtesy of Hand-Spanking.com
Chiemi and Ruka get the best Christmas present from Santa! Haruka is a pretty, living doll. The ladies take full advantage and give her lovely bottom a sound spanking! You will also note that the latest part , a revenge style spanking is now out when Santa is angry that Chiemi and Ruka have abused sweet, innocent Haruka. He orders her to get her revenge and give the naughty ladies a Christmas thrashing too!
Want to see more and the free previews? CLICK HERE
******************************************************
Greg at BunBeatingFun.com had emailed me ages back about this return spanking for the shitty model agent, Vivian, providing him with some real bratty girls with a poor attitude… well, this is one of the best double parters I have seen in a while, I was eagerly waiting for this women to get her comeuppance and I was not in the least bit disappointed! She gets a real hard thrashing across TMS-2's lap and her reactions… and that jiggling red butt of hers are perfection! I really got off to this film, I know good hard OTK lovers will too! You may have seen some images already, so see them a little larger here – and get off and enjoy then go watch the full movie which is awesome!
It was a vivid red bottom for Vivian and this here lady didn't like it one bit. But hey, she's the money grubbing agent who sent some of her most troublesome models Greg's way and for that alone this high highfalutin witch earned herself a truly royal butt blistering.
Check out the FREE long play clip now showing as well as access on how to view this film!
************************************************************
One site I have loved consistently since their inception over 7 years ago is Punishedbrats.com – having met David a few times (& I hope to again next year) I know that they have suffered from piracy and such… I think they are finally waking up to trying to protect their content a little more, it may have had something to do with their policy of just charging from S17/month which is incredibly cheap considering their members area has not been cropped or reduced in size with older movies removed and placed elsewhere as filler content or "classic" spanking sites like some sites have done in the past. Although this might a good practice to divide up larger sites and make older content available as a "classic" for the first timers… right now, Punishedbrats.com continues to offer everything they have done over the past 7+ years in one place. I hate to think what their hosting bill for such content is… as I have to upgrade my own server soon and it will cost quite a bit, which is a worry… but these things happen as sites develop and grow!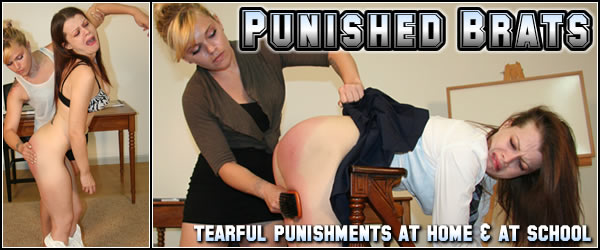 I have quite a spanking crush on Audrey, as I have stated in the past (just look at her amazing bubble butt!) and the new punky and feisty brat next door look from Kayleigh-May is a winner for me too… you just know she is gonna get it good everytime she brats, answers back and gives some sass to her elders and those she is pissing off! So check out both ladies below in 2 contrasting storylines:
"Respect your Elders" : with young brat, Kayleigh May & mom, Beverly Bacci
Kayleigh is not happy to be back in Dr. Bacci's office and rudely tells her father what she thinks about it all. Dr. Bacci quickly gets the brat under control and ready for her second therapy session. While Dr. Bacci discusses Kayleigh's behaviour and gives her some encouragement to make better decisions, she straps the naughty brat's bottom to ensure the message hits home!
Below is one reason why I love Audrey getting spanked so much… a perfect trim waist and a fantastic bubble butt!
There is a new Audrey & Pandora film with lazy Audrey caught out lounging instead of finding work…
"The Job Search"
Audrey claims she is filling out online job applications but Pandora catches her red handed playing silly computer games instead! She's clearly not taking things seriously and is in need over another trip over Pandora's knee. You can see the full film HERE
*************************************************************
Here's a site you'll see a lot more of getting featured. It covers a niche that Sarah Gregory & Dana Specht have all to themselves – MommaSpankings.com – you can join this site seperately or as part of the special 2 Site Pass to Sarah's sites (much better value) via the Sarah Gregory Pass – banners and links to that at the end! Sarah's real need to be punished like the naughty misbehaving girl she is shown perfectly in the many films and image galleries but this one recent film (to start with) shone for me as I really got off watching Sarah getting her punishment from Momma! Wow… it was hot!
I love seeing Sarah get punished for her messy room!!!! She knows the score by now!
When Sarah's Mommy Dana comes to visit her in CT, she finds a very messy room. Sarah had promised to clean it and didn't. Sarah gets another REAL punishment from Momma. Sarah is spanked otk with hand, then bent over for the strap and wooden "stick" before taken back otk for the wooden hairbrush. Poor Sarah, I don't think she was expecting another REAL spanking from Momma. (this was a real hard tearful film, I promise you!)
There is also the new Xmas film available which you can see below with Momma Dana Specht and Uncle Givan…
See more here of  Sarah at the following sites and options…

************************************************
That's it for now, I am still waaaaaaaaaaay behind but I have to do some Xmas shopping now!
& remember kids…
No masturbating 🙂