Warning: The following imagery and material featured here today is of a very sexy spanking nature. Therefore this may cause uncomfortable #TrouserArousal in gentleman viewers and possibly ruined gussets in certain quarters of our more delightfully perverted female readership. Thank you for reading this notice. Please proceed with caution or abandon – as you wish!
Classic sexually themed spankings from SpankAmber.com
See the sexy voluptuous Dani punish Amber with such ferocity that it took her by surprise! As soon as Dani picked up that paddle, Amber's luscious butt turned a glowing red as she cried like a little girl!
CLICK HERE to see MORE of Amber spanked & getting spanked!
One of the cutest POV style spankings I have ever seen came courtesy of the aptly named Christy Cutie – this little performance she put on was awesome but it didn't stop her getting a spanking close up!
YOU are Christy's Daddy and you are far from pleased with her inappropriate attire. She shows you her tight Daisy Duke shorts and pleads for you to let her go out, but those big doe eyes and sexy pout don't get what she wants this time… oh no! She looks shocked as she watches you remove your belt and gesture for her to take off her shorts AND panties as you bend her over the sofa to take a look at what your baby girl is made of before giving her some reminder strokes with your leather belt who is in charge! Christy's smouldering looks, and adult babygirl attitude make this an even sexier spanking experience. This is definitely one spanking POV film you should check out!
CLICK HERE to view this full sexy POV Clip!
The next update is from Firmhandspanking.com – I have fallen in love with this series… Belinda Lawson ASKING for stunning sorority sister Dani Daniels for a spanking is almost too much. This time with a slipper (how quaint and English!) – Dani is an extremely talented young lady… away from her life as a successful young porn star and obvious kinkster… she is a competent golfer, trainee pilot and incredibly down to earth with a love of fine whisky and travel – her Instagram account HERE shows she is updating from beautiful Scotland currently.
Two of the hottest models strip down in an awesome boob shaking, bottom quivering spanking scene for Inappropriate Conduct. Belinda Lawson asks to be spanked to get sorority sister Dani Daniels' attention. Belinda touches her toes as Dani lets fly a long, hard volley of swats on her jiggling cheeks. Spectacular slo-mo replays!
CLICK HERE TO VIEW THE FREE PREVIEWS

I can't wait to be seeing all these girls together again later this month… I wonder if something will be made as hot as this 30 minute spanking movie? I certainly hope so… Poor Amelia Jane Rutherford – Joelle Barros & Sarah Gregory really did go all out and perv on her (with great success, I might add!). It's a fun but also very hot spanking film with some great images and screen grabs for members at AAAspanking.com called Bathtub Bullies.
Amelia was sharing a hotel suite at a busy Spanking Convention with Sarah Gregory and Joelle Barros to save on costs but had begun to regret this decision as the girls were just so darned loud. This break was what she needed away from the hustle and bustle of the convention and her fellow party girls. First Joelle, then Sarah ruined Amelia's alone time by jumping into the bathtub and they ganged up on Amelia, making out in front of her and mocking her need to relax. Amelia tried to defend her right to privacy but the girls just got ruder and naughtier spanking each others bare soapy bottoms until they turned on her taking turns to prey upon Amelia who protested which only made them do it more! This all girl 30 minute spanking extravaganza of a film in full stunning HD should NOT be missed! Features lots of angles, close ups, hot girl on girl spanking in and around the bathtub in a superb location. We are sure this film will make the Honors as a contender in the Spanking Awards 2015, here is your chance to see why right now.
CLICK HERE to see more from the tour pages & how to watch this HD1080 film
Or view it HERE as a special ONE TIME DOWNLOAD
Finally, sexy enemas and spankings from Shadowlane.com are performed in this instructional long play video with Violet October receiving the treatment from her summer disciplinarian, Nikki Rouge. I have a feeling this wasn't filmed too long ago as they were both present at the Shadowlane Party in Vegas. It was fun to meet them in person, fainally. Thsi is a hot sexually explicit spanking and enema video – not for everyone, I understand… but nonetheless…. there are MANY that like this and so it is showcased here today! Some video clips and lots of images below… enjoy!
Beautiful, 22 year old thrill seeker, Violet, revisits Nikki Rouge, her summer disciplinarian, to confess her ardent desire for further therapeutic correction. The petite blonde has been dreaming about embarrassing anal discipline, butt plugs and enemas. She has even visited a sex therapist for preliminary anal training. Lovely, leggy Nikki enthusiastically accepts the assignment, informing Violet that anal penetration must always be prefaced by spanking, rendering the culprit's bottom a deep, dark pink and infusing it with warmth that should last throughout the treatment.
Violet's therapeutic punishment session is finished off with a purifying 24 stroke caning across her adorable bottom, administered with careful exactitude by her thorough mistress. With her pretty cheeks striped and stinging, Violet regains her street clothes and thoughtfully departs to reflect on her new anal adventures.
CLICK HERE to view the full image sets and full length movies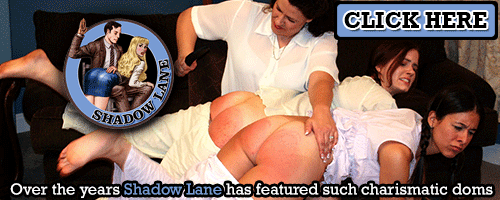 Have a great start to your weekend wherever you are!