al·lit·er·a·tion [uh-lit-uh-rey-shuhn]
noun
The commencement of two or more stressed syllables of a word group either with the same consonant sound or sound group (consonantal alliteration) as in from stem to stern, or with a vowel sound that may differ from syllable to syllable (vocalic alliteration) as in each to all. Compare consonance ( def 4a ) .
The commencement of two or more words of a word group with the same letter, as in "Peter Piper picked a peck of pickled peppers," "long-lived," "short shrift," and "the fickle finger of fate.".
Origin: 1650–60 Medieval Latin alliterātiōn-, stem of alliterātiō, equivalent to al- al- + literātiō, modeled after obliterātiō obliteration but intended to convey a derivative of littera (letter)
or… Teasing Titty Tantrum Tuesday in this case as I thought "why not?" since I am in a strangely good mood – so let's get on with the many varied and naughty spanking/teasing updates I have for you today!
This is a wonderful model I haven't featured for a bit, so let me remind you about her, her site is still going strong and you may want to take a look at this very naughty young lady on her spankbench I remember her getting which had one naughty purpose in mind…. her pleasure and pain. I am sure if is well used, and used often in her house! Check out Amber Dawn from her site spankamber.com
Sign up to any of Amber's sites and get ALL 3 as part of the same package! See how to HERE
***************************************************************
Welcome a new girl, Christie, to SpankedSweeties.com – she is going to be playing a variety of spanking roles and new to The Scene. She will switch too and this promises to be good! In her first few scenes she is being spanked by her mom recounting a time when she grew up… this site is renowned for first time introductions, spanking model fantasy re-enactments and interviews… check her out (below)
Christie Stevens is a blonde cutie who has some very interesting stories about spanking. She was spanked by her mom a few times (played by Lorelei Mission here). And she later got into spanking. As a stripper she has spanked many customers (one re-enactment Veronica plays the victim which you will see coming soon!). Veronica also interviewed her and got her to make some very, very sexy revelations! Enjoy the Christie/Mom role play shown here!
Click HERE to see more of this blonde beauty now!
This site is one of the main sites that makes up the Top Value Clare Fonda Pass
5 sites for a fraction of the combined cost!
***********************************************************
I make no secret that I admire Joelle Barros' work (she's gorgeous), whether it be with my site (of course) or here at Punishedbrats.com – this is the latest full film release now available for download from this site with Michael Valentine in a clever school uniform role play with a slight difference.
From the film "Dress Code Dialectic" (aka Don't be a bratty teacher)
The headmaster knew that he was in for it when his young, probationary teacher arrived wearing a trench coat. Joelle removed the coat to display that she was wearing her old schoolgirl uniform. She thought this funny, the headmaster did not. In the guise of a joke this was her passive-aggressive way of rebelling against Dr. Valentine who had recently punished her for wearing clothes more appropriate for a night at the club, rather than teaching class at an exclusive prep school. After explaining that the wearing of her school uniform had unwanted sexual connotations as well, Headmaster Valentine took Joelle over his lap and spanked her with the hairbrush on her bare bottom.
Dr. Valentine is very concerned about his protégée. He knows that she is a brilliant young woman who has much to offer the students, yet she has proven undisciplined in her comportment. For her part, Joelle knew that dressing in schoolgirl uniform was a true act of defiance. Right now she is think better of such rebelliousness and the hairbrush strikes her bare bottom over and over again. After starting the spanking being defiant towards her mentor, now she is pleading for her punishment to stop interspersed with promises of compliance. After her spanking Joelle can but stand in Professor Valentine's living room, rub her bottom and wonder where it all went wrong.
Regulation white panties pulled down half mast – like the old fashioned methods of humiliation punishments!
Click here for the free video film Preview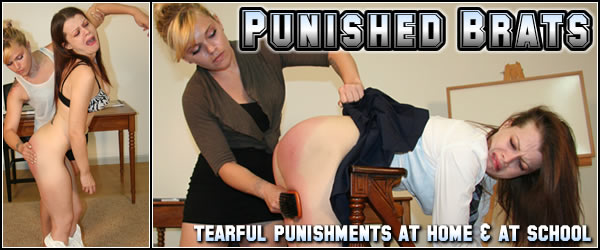 *************************************************
That's it for now… I'm off to watch the USA try and get past Belgium for the right to play the sneaky Argies!