I got asked about one of the earliest Amelia Jane Rutherford images I remembered seeing and it was the striking image below of the spanking aftermath which was from northernspanking.com
Do you remember the moment Amelia Jane arrived at this website?
This was the image I remember back then which piqued my interest at the time…
Well, I decided to check out more of this update and realized that it was from her first ever shoot with them sometime, I think, in either 2007 or 2008. And what a great intro it was as you'll see below. This wasn't her first site that she had worked at, of course, I do remember her Strictly English DVDs and I did have some of those but this was my first website image of her that I remember well.
Introducing Amelia Jane Rutherford – classic archives from Northern Spanking
This was what the good folk of NorthernSpanking.com had to say about this introduction!
This was shot on the evening she arrived as a kind of a warm-up for the following day and Amelia said she would like to be woken up, dragged out of bed and spanked! How could we say no? Having been so rudely awoken to be punished, as the shock wears off, Amelia Jane realizes she is over Paul's lap having her bottom soundly spanked and she can't quite recall why. Her indignation recedes slightly when the disaster in the Dining Hall has been explained to her.  Also explained to her is the fact that those tight white knickers will not be adorning her bottom for very much longer and a spanking is just the beginning of what she can expect…
As promised, Amelia Jane feel her knickers beng pulled down and herself being bent over her bed. That little strap is hard and stingy and always turns her pale bottom a glowing fiery red. Paul is still not finished with Amelia Jane and returns with a cane! Her only consolation is that she's not to be caned in front of her entire House, as he has threatened – perhaps she'll be a little more compliant now? There will be no repetition of the days antics for a very sore Amelia Jane as she nurses her caned bottom back to bed.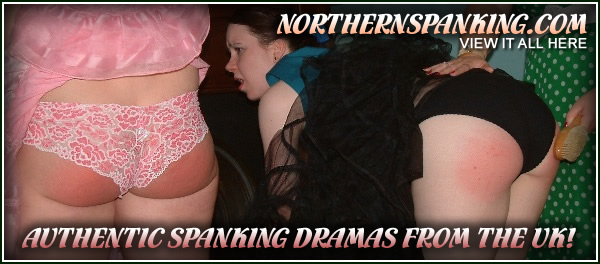 If you want to meet Amelia in person then she is the guest of Honor at this year's Lone Star Spanking Party – she will be there for the entire event and also running what will be a popular class for those interested in bondage/spanking for beginners! As well as Michael Masterson and of course both Paul & Alex from northernspanking.com will be there too!
See how to register and book your hotel at America's largest gathering of spankos in one place this coming May 19-23 in Houston, Texas. It's gonna be awesome!